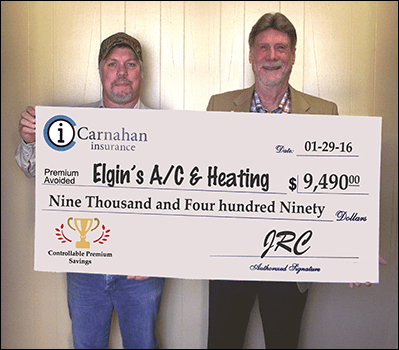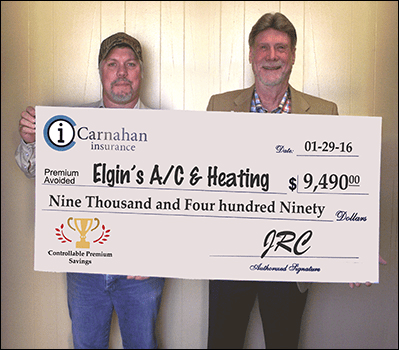 Carnahan Insurance announces that its first Controllable Premium award winner of 2016 is Elgin's A/C & Heating, a company based in Cibolo, TX. Elgin's was chosen as a great example of the amount of premium that businesses can save when they embark on a process to properly manage their insurance risk and, if applicable, workers' comp program.
Elgin's was able to reduce their Worker's Comp X-MOD from 118 to 82 and pocketed $9,490 in savings. "These savings are often there for the taking – but many businesses don't realize what exactly to do to reduce these costs," said Jerry Carnahan, President of Carnahan Insurance and Elgin's agent. He continued, "It's easy for someone to say they can save a business money. However, we have taken the extra step of putting together an Evidence Binder which anyone can look through to read the company names and see actual photos of them as well as the amounts they have saved."
Kenneth 'Ken' Schulmeier is president of Elgin's A/C & Heating. A second-generation firm, Elgin's is proud of its long record of service to local businesses and residents. Commenting on the savings Carnahan Insurance was able to get for him, Schulmeier said "We'd have to install 15,863 pounds of ductwork to equal the savings! We're specialists in A/C & Heating – not insurance! Jerry's a great partner for us in keeping our insurance and workers' comp costs as low as possible."
Carnahan Insurance has a 4-page PDF entitled How to Lower Insurance Premiums that can be ordered free of charge by calling Jerry Carnahan.
---
About Jerry Carnahan, LUTCF, CWCS
Jerry Carnahan is the owner of Carnahan Insurance agency and co-author of the Texas edition of Stop Being Frustrated & Overcharged, a book about reducing Workers' Compensation costs. Jerry is also the brains behind SmartGuard(R), a proprietary process to identify and prioritize businesses' unique risks.  SmartGuard(R) was granted a registered trademark by the U.S. Patent and Trademark office! Jerry is available to speak to business, networking, benevolent and association groups on the topic: What Every Business Needs to Know About Lowering Insurance Premiums: 2016. Carnahan Insurance is a proud member of the Insurance One Agency family.