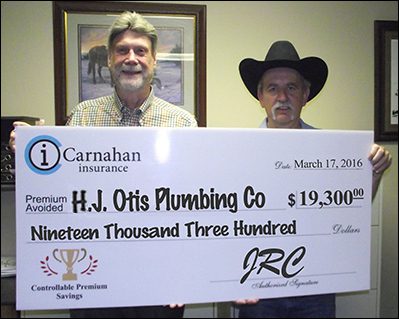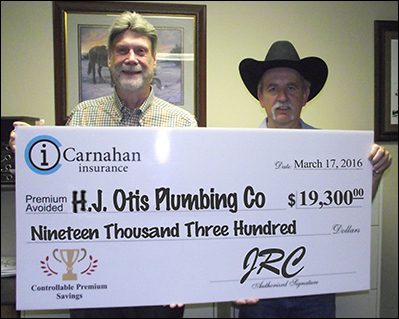 Carnahan Insurance announces the Controllable Premium award has been awarded to H.J. Otis Plumbing Company. Located in San Antonio, H.J. Otis has been in business since 1988, and is a leading regional provider of plumbing services.
H. J. Otis was chosen for their steadily increasing worker's comp premium savings. Though their 2014 savings were modest, in 2015, the company saved over $9,100 and they are on track to save a whopping $19,300 in 2016!
"H. J. Otis Plumbing has 15 employees, and keeping those employees safe and on the job is a top concern to the company. Not only have the steps they've taken increased employee safety, but they have saved 23% in workers' compensation premiums compared to the industry standard," said Jerry Carnahan, President of Carnahan Insurance. He continued, "It's professionally satisfying for me to be able to provide risk reduction advice, programs and tools to this company, as well as so many other great businesses in San Antonio. It also makes me and my staff very happy to help companies achieve significant cost savings."
"H. J. Otis Plumbing's strengths include the ability to not only get the job done right, but get it done safely," explained company founder H. J. 'Jim' Otis.  He continued, "Carnahan Insurance shares our commitment to excellence and we are happy we chose them to help us with workers' compensation as well as other important insurance."
---
About Jerry Carnahan, LUTCF, CWCS
Jerry Carnahan is the owner of Carnahan Insurance agency and co-author of the Texas edition of Stop Being Frustrated & Overcharged, a book about reducing Workers' Compensation costs. Jerry is also the brains behind SmartGuard(R), a proprietary process to identify and prioritize businesses' unique risks.  SmartGuard(R) was granted a registered trademark by the U.S. Patent and Trademark office! Jerry is available to speak to business, networking, benevolent and association groups on the topic: What Every Business Needs to Know About Lowering Insurance Premiums: 2016. Carnahan Insurance is a proud member of the Insurance One Agency family.